2019-2020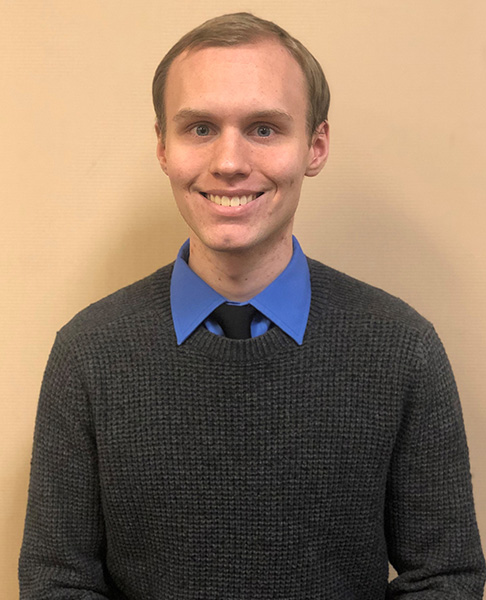 Spydel Nardy s a junior at Iowa State University who is majoring in Biochemistry with a minor in Emerging Global Diseases. He has served as the secretary for the Stupka Committee since Fall 2017 and actively volunteers in the committee. Since Spring 2018, Spydel has been involved in undergraduate research in Dr. Dipali Sashital's lab where he is currently focusing on CRISPR Cascade Type 1-C complex. He also enjoys being a Supplemental Instructor for organic chemistry in Iowa State's SI program. In the future, Spydel hopes to attend graduate school to pursue a Ph.D after graduating in spring 2020.
---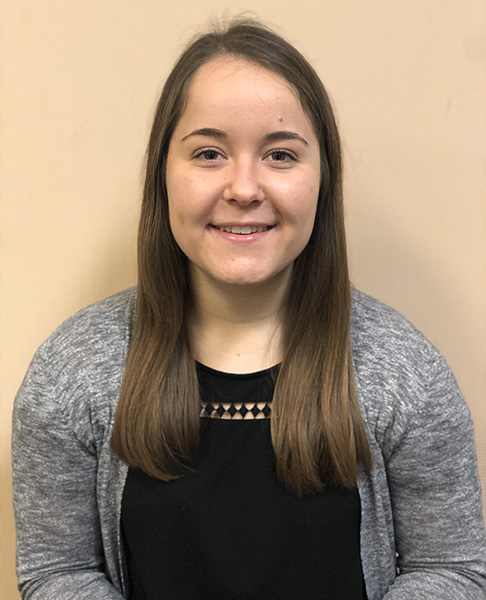 Kayla Uthe is a junior in biochemistry with a minor in environmental studies. She is a research assistant in Dr. Olga Zabotina's lab, where she is involved in the study of the xyloglucan synthesizing complex formation in the plant cell wall. She is currently fundraising co-chair of the Stupka Symposium Planning Committee, LAS representative of the BBMB Club, and a B&B learning community peer mentor. After graduation, Kayla plans to pursue a career in environmental biotechnology.
---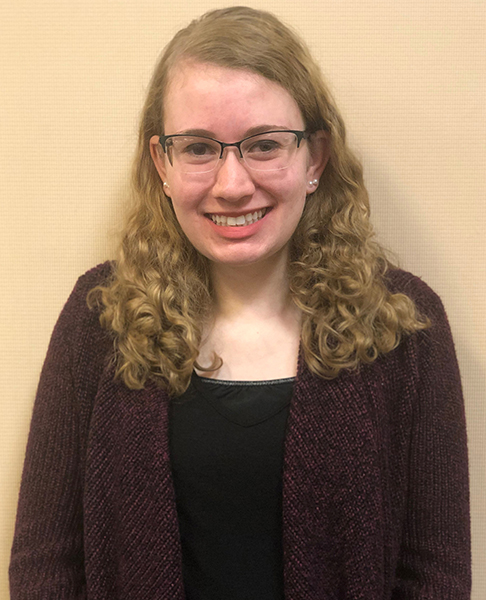 Sarah Zelle is currently a junior at Iowa State majoring in biochemistry and genetics. Since May 2017, she has worked in Dr. Eric Underbakke's lab researching determinants of membrane association in the synaptic GTPase-activating protein SynGAP. She is currently a B&B Learning Community peer mentor, Stupka Symposium Planning Committee media chair, and has been an undergraduate instructional assistantant for BIOL 313L. After graduation, Sarah plans to obtain her PhD in biochemistry and eventually have a career in biomedical research.
Past and Present Scholars
Name
Year
Bio
Jacqueline Ehrlich
2018
B.S. in Agricultural Biochemistry, 2020
Pursuing a doctorate in nutritional biochemistry
Bailey Mooney
2018
B.S. Biochemistry and Genetics, 2019
Pursuing medical school after graduation
Emily Knuth
2018
B.S. in Agricultural Biochemistry, 2019
Pursing graduate school for a PhD
Matt Cook
2018
Graduate training, Yale
Lauran Chambers
2017
Research Specialist at the University of Pittsburgh Department of Surgery conducting research on specific drug effects on mitochondrial respiration.
Alex Donelson
2017
B.S. Biochemistry S18
Pursuing graduate training
Drew Tonsager
2017
M.S. Biochemistry S18
Ph.D. Candidate Colorado State University
Adrienne Smith
2015, 2016
B.S. in Biochemistry, F2016
Morgan Barrett
2016
B.S. in Biochemistry and Genetics, 2017
Graduate training in Forensic Biology, University of New Haven, CT
Natalie Whitis
2016
B.S. in Biophysics, 2017
Ph.D. candidate Univ. Calif. San Francisco
Flora Yen
2015
3rd year dentistry student at the University of Iowa
Zack Young
2014
Senior Researcher at Oklahoma Medical Research Foundation.
Denis Tamiev
2014
3rd year graduate school Biological Engineering at Iowa State University
Kinsey Cornick
2013
D.O. Des Moines University 2018
Resident Physician, MO
Kristen McKibben
2013
Ph.D. candidate at the University of Pennsylvania
Jennifer Kaczynski Meye
2013
Scribe in the dermatology department at Unity and Mercy Hospital, MN.
Pursuing graduate training in genetic counseling
Alana Jackson
2012
M.D. University Minnesota, Duluth 2016
Resident Physician, Spokane Teaching Health Ctr.
Samson Condon
2012
Ph.D. candidate at University of Wisconsin-Madison.
Mollie Tiernan Schubert
2011
M.S. Biochemistry, ISU
Research Scientist III, Molecular Genetics Integrated DNA Technologies, Coralville, IA
Johanna Jass Bailey
2011
Master of Public Health, Univ. of Missouri, 2015
Manager at Elemental Enzymes, Florida
Craig Brown
2011
M.D. from University of Chicago 2016
Surgical resident at University of Michigan
Jackie Souleyrette Rivas
2011
Ph.D. in Immunology 2017 University of Texas Southwestern Medical Center
Postdoctoral fellow Lexington, KY
Dayna Peterson
2010
Ph.D. Arizona State University 2017
Currently on maternity leave
Mina Farahbakhsh
2009
Ph.D. University of Kansas 2015
4th year medical school Univ. of Kansas
Luke Helgeso
2008
Ph.D. Biochemistry
Postdoctoral fellow at the Univ. of Washington
Mara Determan Alexeev
2007
M.D. University of Iowa 2012
M.S. Public Health, UC Berkeley 2016
Currently on maternity leave
Claire Kruesel
2006
Lecturer for the English Department at Iowa State University.